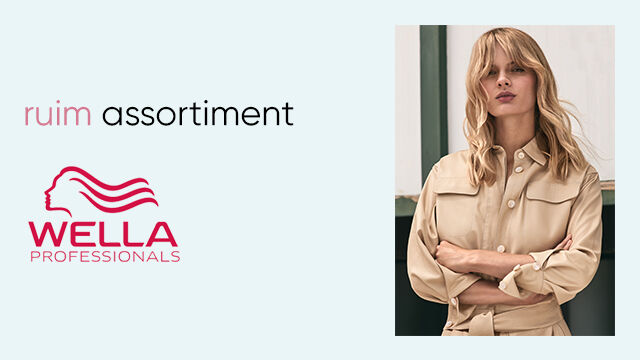 Producten 1 tot 24 van 675 in totaal
Pagina
Je leest momenteel de pagina

1
Producten 1 tot 24 van 675 in totaal
Pagina
Je leest momenteel de pagina

1
Wella Professionals voor mooier haar!
Wella Professionals zorgt er, door de samenwerking met professionals, voor dat verwachtingen worden overtroffen en beautydromen werkelijkheid worden. Hierbij wordt geïnvesteerd in productinnovatie, maar ook in de nieuwe generatie haartalent. De belangrijkste opkomende trends worden jaarlijks inzichtelijk gemaakt tijdens de Wella Professionals Trend Vision Awards.
Wella haarverzorging
Wella Professionals haarverzorging bestaat onder andere uit de Wella Brilliance, Balance, Elements, Wella Enrich en Age lijnen. Wil jij je haar beschermen en daarnaast met een prachtige glans rondlopen? Dan zijn de producten van de Wella Brilliance lijn iets voor jou! De Wella Brilliance Shampoo staat bekend om zijn 'diamantglans'. De shampoo verzorgt en reinigtje haar en geeft daarbij een heerlijke geur af! Voor optimaal resultaat, probeer ook eens een conditioner, haarmasker of leave-in van de Brilliance lijn. Ook als je bijvoorbeeld ouder wordend, beschadigd of gekleurd haar hebt, heeft Wella verschillende haarverzorgingsproducten om ook jouw haar weer te laten stralen!
Wella haarverf
Wella Professionals heeft ook verschillende kleurlijnen. De kleurproducten van Koleston Perfect, Color Touch en Blondor brengen nieuw leven in je haar! De Koleston Perfect lijn bestaat uit meer dan 120 verschillende kleuren. Dus welke kleur je ook in gedachten had, met deze lijn heb jij straks de kleur die precies bij jou past! Voor mensen die snel last hebben van irritatie op de hoofdhuid tijdens het kleuren, heeft Wella de Koleston Perfect Innosense lijn. Door een nieuwe kleurmolecule wordt de allergische reactie verminderd! Ben je nog niet zeker van een nieuwe kleur? Kies dan voor een kleur uit de Color Touch lijn van Wella.De semi-permanente kleuren laten je genieten van intensieve kleureffecten!
Wella stylingsproducten
Wella stylingsproducten geven het beste resultaat wanneer je deze met elkaar combineert. Combineer bijvoorbeeld de Dry, Wet en Finish lijnen en haal het beste in je haar naar boven. Wacht niet langer en bestel je Wella Professionals haarproducten bij ons op Kapperskorting.com! Geniet van hoge kortingen, snelle levering en persoonlijke service.