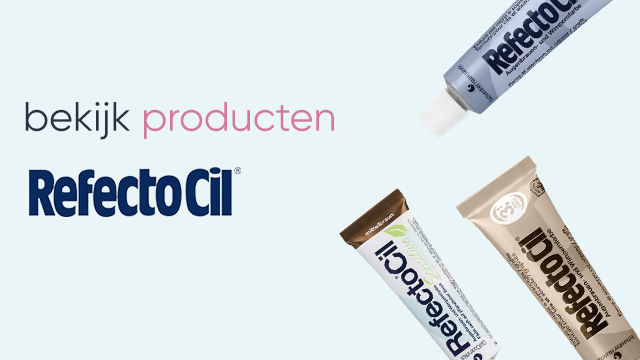 Refectocil wenkbrauwverf
RefectoCil wenkbrauwverf is de beste als het gaat om het permanent verven van je wenkbrauwen. Door het brede assortiment zit er voor jou altijd wel een passende kleur bij! Geniet van mooi geverfde wenkbrauwen en wimpers zonder ze elke ochtend bij te hoeven werken!
De wenkbrauwverf van RefectoCil is bij ons verkrijgbaar in dertien verschillende kleuren en maakt onderscheid in verf voor ieder huidtype en verf voor de gevoelige huid. Voor de gevoelige huid heeft het merk de lijn RefectoCil Sensetive. De producten in deze lijn zijn allemaal op basis van natuurlijk ingrediënten en zorgen dat de huid na de behandeling niet geïrriteerd raakt. De RefectoCil Sensetive Wenkbrauwverf is in vier verschillende kleuren verkrijgbaar:
Permanent verven
Permanent je wenkbrauwen verven in één van de negen verschillende kleuren! Heb je genoeg van je lichte wenkbrauwen en wil je eens een bruine kleur? Of heb je geen zin meer om in de ochtend je wenkbrauwen te tekenen? Met de RefectoCil Wenkbrauwverf kan het! De permanente wenkbrauwverf is verkrijgbaar in de volgende kleuren:
Vergeet niet om de wenkbrauwverf te mengen met een ontwikkelaar. Alle ontwikkelaars vind je bij benodigdheden. Bij benodigdheden staat verder alles wat je nodig hebt om je wenkbrauwen te verven. Dus heb je thuis nog geen verfschaaltje, wimperblaadjes, afdekcrème of remover? Klik dan hier om naar benodigdheden te gaan en schaf alles aan wat jij nog nodig hebt om je wenkbrauwen perfect te kunnen verven!
Alle permanente wenkbrauwverf van RefectoCil is al met 35% korting te verkrijgen bij Kapperskorting.com. Wacht dus niet langer en bestel nu! Bestel je vandaag nog voor 22:00? Dan heb je jouw bestelling morgen (indien op voorraad) al in huis. En meld je ook aan voor de nieuwsbrief! Dan blijf je altijd op de hoogte van de nieuwste acties en trends!