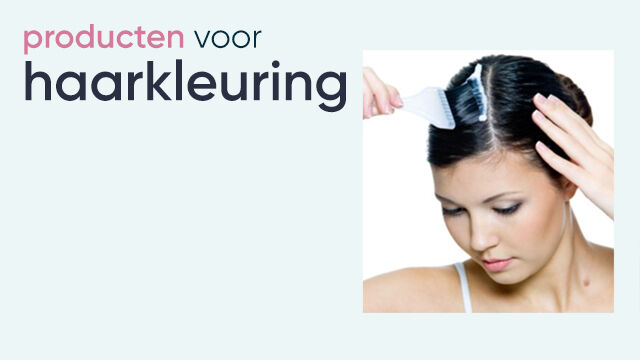 AFAS Lijn Select

Fanola Cream Color Toner 100ml

Schwarzkopf Igora Royal SilverWhite 60ml

Goldwell Topchic Zero Bus 250ml

Goldwell Topchic Zero Tube 60ml
Producten 1 tot 24 van 2148 in totaal
Pagina
Je leest momenteel de pagina

1
Producten 1 tot 24 van 2148 in totaal
Pagina
Je leest momenteel de pagina

1
Permanent je haar verven!
Permanent een nieuwe kleur in je haar is best spannend. Je gaat voor een nieuwe haarkleur. Bij het permanent verven van je haar willen de kleurpigmenten tot in de kern van je haar komen. Doordat er een chemische reactie is ontstaan en de haren dikker zijn geworden, kunnen de kleurpigmenten in de kern komen. Daar kunnen zij zich gaan ontwikkelen en jou de gewenste haarkleurgeven! Veel mensen kiezen dan ook voor permanente haarkleuring. De eerste grijze haren komen tevoorschijn en deze willen we verbergen! Of we willen simpelweg gewoon een ander kleurtje.
Kleuren
Kleuren van je haar kan op heel veel verschillende manieren. Als je jouw haar gaat kleuren, kun je kiezen voor een kleine verandering of juist een extreme verandering. Je wilt bijvoorbeeld in plaats van jouw lichtebruine lokken nu een keer wat donkerders en je kiest voor Lisap Escalation Now Color Crèmekleuring 3/0 Donkerbruin. Je blijft in de bruine kleur, maar toch net iets anders. Kies je voor een extremere verandering? Dan kies je er misschien wel voor om jouw blonde lokken te vervangen door Lisap Escalation Now Color Crèmekleuring 00/555 Vlammend Rood. Wat je ook kan bedenken, er is altijd een kleur die bij jou idee past!
Gevoelige hoofdhuid
Niet iedereen kan even goed tegen haarverf. Sommige mensen krijgen tijdens de behandeling last van een jeukende of geïrriteerde hoofdhuid. Misschien ben jij wel één van deze mensen. Speciaal voor jou heeft Wella de oplossing! Wella komt met een eigen lijn: Wella Koleston Perfect Innosense. Na jaren onderzoek heeft Wella de kleurmolecule ME+ ontwikkeld. Deze molecule zorgt ervoor dat de ontwikkeling van een allergische reactie verminderd. Zo kun jij ook kiezen voor permanente haarkleuring zonder dat je de gehele behandeling last van je hoofdhuid hebt. Nooit meer last van een jeukende en geïrriteerde hoofdhuid dus! De Wella Koleston perfect Innosens producten zijn met 45% korting te verkrijgen op onze website Kapperkorting.com