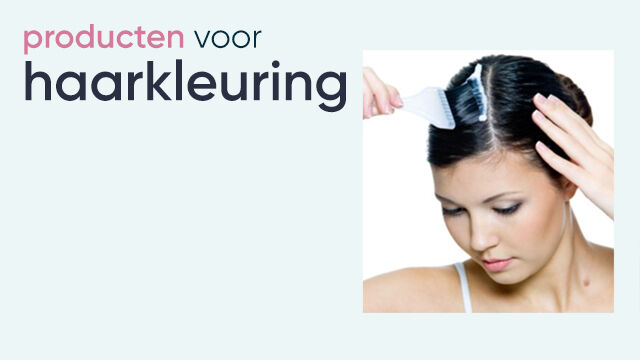 Producten 1 tot 24 van 3547 in totaal
Pagina
Je leest momenteel de pagina

1
Producten 1 tot 24 van 3547 in totaal
Pagina
Je leest momenteel de pagina

1
Haarkleuring voordelig bij ons te bestellen!
Haren kleuren? Wie doet het tegenwoordig niet. Als we genoeg hebben van ons kleurtje, kiezen we gewoon een nieuwe. En met ons brede aanbod maakt het niet uit welke kleur jij wilt, wij hebben deze voor jou! Wil jij helemaal van je kleur af? Ga dan voor permanente haarkleuring. Twijfel je nog of de kleur je wel zal staan, probeer dan eerst een een spoeling.
Permanent
Permanente haarkleuring: steeds meer mensen kiezen ervoor . We hebben lang genoeg met dezelfde kleur gelopen en zijn klaar voor iets anders. We willen definitief van onze oude kleur af. Voor een permanente verandering in je haar wordt haarverf gebruikt. Deze zorgt ervoor dat de oude haarkleur niet meer te zien is! Een bijkomend nadeel van permanente haarkleuring is de uitgroei. Maar ook hier hebben wij de oplossing voor! Neem eens een kijkje bij onze haarmascara's van Dreamlook. Zo kun jij jouw eigen uitgroei bijwerken!
Semi-permanente haarkleuring en spoeling
Spoeling of een semi-permanente haarkleuring? Dit kies je als je niet zeker bent van een permanente kleur en tijdelijk wat anders wilt. Deze haarkleuring blijft maar tijdelijk zitten. Ze vervagen na een aantal wasbeurten en uiteindelijk zal je jouw eigen haarkleur weer terug hebben! Heb je last van droog of beschadigd haar? Dan is deze manier van haarkleuren beter voor je haar. De spoeling zal niet tot de kern van je haar komen, waardoor je haar minder beschadigt! Behalve de keuze in kleur, kun je ook nog kiezen of je naar de kapper gaat of het zelf gaat doen. Kies je ervoor om het zelf te doen, dan heb je natuurlijk de bijbehorende kleurbenodigdheden nodig. Na het kleuren van je haar ben je nog niet klaar, want ook daarna moet het haar nog goed verzorgd worden. Voor gekleurd haar hebben wij onze speciale voor- en nabehandelingsproducten. Deze producten zorgen ervoor dat je haar, ook na het kleuren, langer de kleur behoudt en er gezond uitziet!