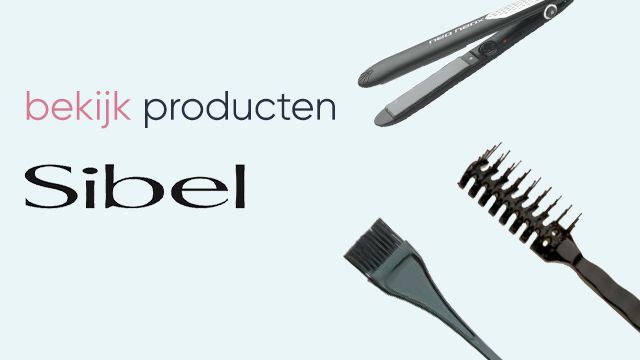 Producten 1 tot 24 van 400 in totaal
Pagina
Je leest momenteel de pagina

1
Producten 1 tot 24 van 400 in totaal
Pagina
Je leest momenteel de pagina

1
Sibel hair
Sibel is een merk bestaande uit hair & beauty producten. Het is een zeer bekend merk met kappersaccessoires en -benodigdheden van hoogwaardige kwaliteit. Dus zoek je een shaker voor kleuringen, een universele handdouche, wegwerphanddoeken, draadrollers of andere kappersaccessoires en- benodigdheden? Op Kapperskorting.com bieden wij deze met hoge kortingen aan!
Permanentwikkels
Permanentwikkels van Sibel zorgen voor prachtige krullen. De lange wikkels van 80mm zijn erg duurzaam en zijn naast professioneel gebruik ook erg geschikt voor de thuiskapper. De permanentwikkels zijn per twaalf stuks te verkrijgen in de kleuren wit, lichtroze, geel, rood en blauw.
De Sibel permanentwikkels kort 60 mm zijn verkrijgbaar in de kleuren geel, rood en blauw. Met deze korte permanentwikkels zet je een permanent met gemak in het haar! Ze gaan lang mee en zijn dus voor meerdere behandelingen te gebruiken. Zo kun je vaker prachtige krullen maken! Alle permanentwikkels zijn al met 35% korting bij ons te bestellen!
Haaraccessoires
Wil je een donutknot maken? Wil je een klassieke look creëren? Of wil je simpelweg dat je knot de hele dag blijft zitten zonder dat deze uitzakt? Met de Sibel Knotrol kan dit! Door de synthetische constructie hecht de Knotrol goed aan het haar en zorgt het voor een betere houvast. De Sibel Knotrol met een diameter van ongeveer 9cm is verkrijgbaar in de kleuren blond, bruin en zwart. Ook de Knotrol is al met een korting van 35% te verkrijgen bij ons!
Heb je nog vragen over een product? Twijfel dan niet en neem contact op met onze klantenservice. Zij helpen jou met al je vragen! En een snelle levering gegarandeerd bij Kapperskorting.com: bestel je producten vandaag nog voor 22:00 en je hebt ze morgen al in huis. Wil je altijd op de hoogte blijven van de nieuwste acties en trends? Vergeet je dan niet aan te melden voor de nieuwsbrief!