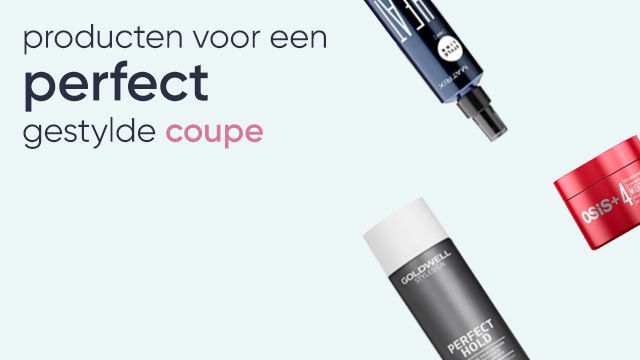 Producten 1 tot 24 van 119 in totaal
Pagina
Je leest momenteel de pagina

1
Producten 1 tot 24 van 119 in totaal
Pagina
Je leest momenteel de pagina

1
Vloeibare versteviger voor je haar

Een vloeibare versteviger is pure verwennerij voor je haar. Het is namelijk een haarstylingsproduct en haarverzorgingsproduct in één! Deze producten zie je vaak in de vorm van sprays waardoor het erg makkelijk in gebruik is. Dit haarproduct beschermt je haar daarnaast ook nog eens tegen vrije radicalen. Haibu heeft een breed assortiment aan vloeibare verstevigers, hierdoor is er voor iedereen wel een geschikte spray. Welke versteviger jij nodig hebt hangt af van je haartype en je wensen. Wij helpen je graag om de juiste keuze te maken!


Gebruiksaanwijzing vloeibare versteviger

Zoals al vermeld is een vloeibare versteviger erg makkelijk in gebruik. Je gaat als volgt te werk: spray enkele druppels van het product op je handen en masseer het door je hele haar. Borstel het haar vervolgens goed door om er zeker van te zijn dat het product geen pluk heeft gemist. Laat je haar nu aan de lucht drogen of gebruik een föhn. Het resultaat: een glanzende haardos die er niet vet uitziet.
Over het algemeen gebruik je een versteviger op bovenstaande wijze, per merk kunnen er alleen wel kleine verschillen in zitten. Let hier op wanneer de het product voor het eerst gebruikt. Want wanneer je een product op de juiste wijze gebruikt heeft die het meeste effect!


Favoriet: Kerastase Construction Matérialiste

Droom jij ook van zichtbaar en voelbaar voller haar? Dan wordt de Kerastase Construction Matérialiste vanaf nu ook jouw favoriete haarproduct. Deze vloeibare gel spray zorgt ervoor dat dunner of fijner haar écht dikker wordt. Zelfs een vlecht of een staart ziet er ineens stukken voller uit! De spray gel van Kerastase is onder andere verrijkt met intracylane dat zorgt voor sterker haar.


Vraag advies aan onze experts

Weet je niet welke vloeibare versteviger geschikt is voor jouw haar? Of twijfel je tussen twee producten? Aarzel niet en vraag het aan onze experts.