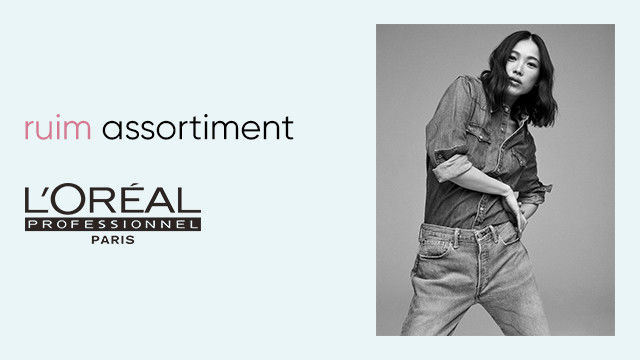 Producten 1 tot 24 van 413 in totaal
Pagina
Je leest momenteel de pagina

1
Producten 1 tot 24 van 413 in totaal
Pagina
Je leest momenteel de pagina

1
L'Oréal kleur om mee te stralen!
L'Oréal kleur brengt weer leven in je haar! Ben je toe aan een nieuwe haarkleur, maar weet je nog niet precies wat je wil? Neem dan eens een kijkje bij de kleuren van Loreal. Door het uitgebreide assortiment aan haarverf is er ook voor jou een kleur. Of je nu permanent een nieuwe kleur wilt of eerst tijdelijk een kleur wilt proberen, Loreal heeft het allemaal! Naast de haarkleuring heeft Loreal ook het kleurenboek Majirel en kleurenboek INOA.
LOréal kleur bestaat uit de volgende lijnen:
L'Oréal Majirel
L'Oréal Majirel is één van de bestverkochte kleurlijnen op Haibu. Deze permanente haarkleuring verzorgt, beschermt en verstevigt het haar! De rijke, intensieve kleuring zorgt voor een 100% dekking op grijs en wit haar! De verschillende lijnen van Majirel hebben ieder zijn eigen kracht en blinken allemaal uit! De High Lift geeft je bijvoorbeeld die frisse zomerlook, terwijl de Cool Cover diepe kleureffecten geeft met een hoge resistentie tegen kleurvervaging!
L'Oréal INOA
L'Oréal INOA maakt het kleuren eenvoudiger dan ooit! De unieke technologie gebruikt de kracht van olie om de werking van de kleur te optimaliseren! Het resultaat: een perfecte permanente kleur met optimaal respect voor het haar. De kleuringen uit deze lijn zijn geurloos, zonder ammoniak en bieden comfort voor de hoofdhuid. Geniet van oneindig veel kleurvermogen en een sublieme glans!
De haarverf dient in combinatie gebruikt te worden met INOA Oxidant. Deze waterstof oxidant is speciaal ontwikkeld voor de INOA haarverf. Dit oxidant dient apart besteld te worden. Klik hier om naar de INOA Oxidant te gaan.
Bestel je LÓreal haarkleuring vandaag!
Bestel je Loreal haarkleuring op werkdagen voor 22:00 en je ontvangt de bestelling de volgende dag al in huis! Voor orders vanaf €30,- (excl. btw) betaal je geen verzendkosten.