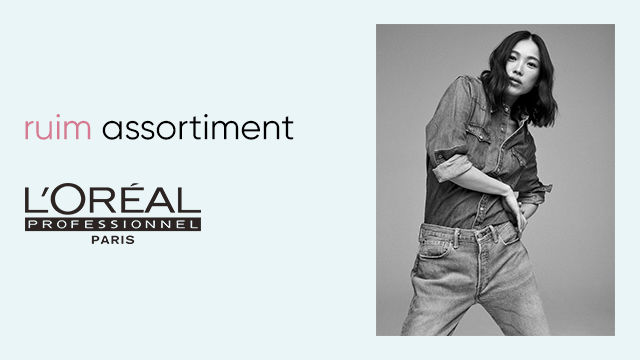 Producten 1 tot 24 van 745 in totaal
Pagina
Je leest momenteel de pagina

1
Producten 1 tot 24 van 745 in totaal
Pagina
Je leest momenteel de pagina

1
L'Oréal Professional

L'Oréal Professional is een van onze meest geliefde en exclusieve kappersmerken die jouw professionele behoeften erkent en je helpt om prachtige creaties te verwezenlijken! Dit topmerk levert exclusieve haarcosmetische producten aan zowel kappers, thuiskappers en consumenten over de hele wereld en is met zeer hoge korting verkrijgbaar bij kapperskorting.com! Kapperskorting.com is dé groothandel voor al jouw kappersproducten. L'Oréal vertaalt samen met topkappers kleurtrends vanaf de catwalk naar de kapperswereld. Onze klanten zijn allemaal verschillend, maar ook allemaal uniek. De producten van L'oréal Professionnel spelen in op het respect voor deze verschillen in leeftijd, huid, haar soort en behoeften! De producten zijn zo ontwikkeld dat kappers en kleurspecialisten al hun creativiteit kwijt kunnen bij ieder uniek persoon.


L'Oréal Steampod 2.0

De L'Oréal Steampod is vernieuwd! Gelukkig kun je deze geweldige stoom stijltang en de bijbehorende care producten gewoon bij ons bestellen. De Steampod 2.0 is een innovatieve, revolutionaire stoom stijltang die ervoor zorgt dat je het haar op een gezonde en verantwoorde manier steil kunt maken zonder dat het beschadigd raakt. Geniet nu ook van een langdurig steil resultaat tot wel 3 dagen met de absolute favoriet onder onze klanten!


Haarkleuring

Voor de meest fantastische kleurresultaten ga je voor de L'Oréal haarkleuringsproducten! Dit topmerk biedt briljante permanente kleuringen met de lijnen: INOA, Majirel en Luocolor. Voor de mensen die permanent één stap te ver vinden biedt L'Oréal een kleurservice zonder ammoniak die je haarkleur levendig maakt met een rijke en diepe kleur! Ben je hier naar op zoek? Dan heb je keuze uit de L'Oréal Dialight & Diarichesse. Met de Blond Studio lijn van dit topmerk laat je alle blonde verlangens vervullen. Of je nou gaat voor de meest trendy looks, highlights, balayage of het trendy Bronde. Met deze ontkleuringsproducten is het allemaal mogelijk.


Verzorging & Styling

L'Oréal is niet alleen een ster op het gebied van haarkleuring, ook op het gebied van haarverzorging behoort L'Oréal Professionnel tot de top! Met de verschillende verzorgingslijnen biedt dit merk voor ieder haartype het bijbehorende product om zo je haar de juiste verzorging te geven. Of je nou gaat voor de verzorging van gekleurd haar, droog/beschadigd haar, dof of lusteloos haar, L'Oreal heeft voor elk wat wils! De Serie Expert lijn is een lijn die voor elk haartype een lijn met verzorgingsproducten heeft met o.a. shampoos, conditioners, haarmaskers, leave-in sprays en serums.


L'Oréal Mythic Oil

De Mythic Oil haarverzorging geeft ook jouw haar de ideale verzorging! Deze lijn die bestaat uit shampoo, conditioner, haarmasker en verschillende serums zorgen ervoor dat je haar glanst als nooit tevoren. Deze producten geven het haar intense hydratatie en voeding, reinigen en zorgen ervoor dat het haar er gezond en glanzend uit ziet. Ook de Mythic Oil producten bestel je bij kapperskorting!