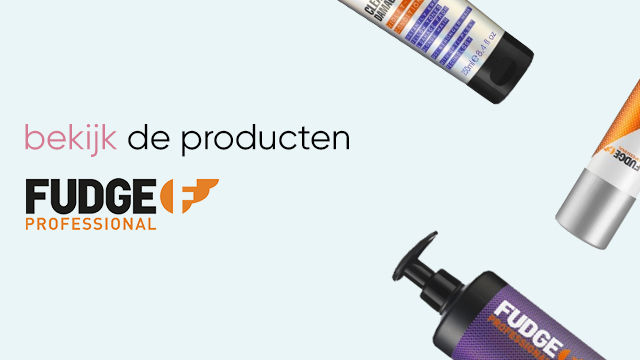 Fudge haarproducten

Fudge haarproducten zijn er voor kappers en consumenten die hun creativiteit willen ontwikkelen. Fudge heeft daarom een complete lijn professionele stylingproducten en verzorgingsproducten. Fudge producten zijn stuk voor stuk innovatief en krijgen daarom regelmatig prijzen voor productdesign en/of productinnovatie. Hierdoor werk jij altijd met de beste producten! Goed om te weten: de haarproducten worden niet op dieren getest.


Fudge shampoo en haircare

Haarverzorging is de eerste stap voor mooi en gezond haar. Voor ieder haartype is er een geschikte variant beschikbaar. Hieronder vind je de 2 best verkochte lijnen. Kies jouw favoriet!


1. Fudge silver shampoo

De populairste lijn voor blondines is de Clean Blonde. De shampoo en conditioner reinigen het haar en verwijderen gele en koper tinten. Door de toegevoegde tarweproteïne wordt het haar beschermd tegen de hitte van stylingtools.


2. Fudge Colour Lock

Fudge Colour Lock is ontwikkeld voor haar dat geverfd is. Het onderhoudt en verbetert de haarkleur zodat het glanzender en levendiger wordt. Het is zelfs wetenschappelijk bewezen dat deze Fudge haarproducten de kleur langer vasthouden.


Fudge stylingproducten

Stap 2 is het haar stylen. Met de stylingproducten van Fudge is alles mogelijk! Of je nu op zoek bent naar volume, glans, fixatie of versteviging. Bekijk snel de bestsellers:
Fudge hair shaper: een sterke fixerende modelleercrème. Voor een sterke finish met een satijnen glans.
Fudge salt spray: geeft volume en structuur aan futloos haar. Voor een gemiddelde fixatie met een mat eindresultaat.
Fudge dry shampoo: maakt het haar schoon en geeft het een frisse geur. Absorbeert vet en olie.
Fudge push-it-up: een lichtgewicht spray die het haar naar nieuwe hoogten tilt. Voorkomt ook pluizig en statisch haar.
Fudge gloss: geeft het haar een prachtige glans. Werkt ook perfect op kroezig haar!
Fudge haarproducten kopen

Alle verzorgings- en stylingproducten van Fudge koop je voordelig op Kapperskorting.com. Wil je op de hoogte blijven van acties over Fudge en andere professionele merken? Meld je dan aan voor onze nieuwsbrief! Op deze manier ben je altijd als allereerst op de hoogte.