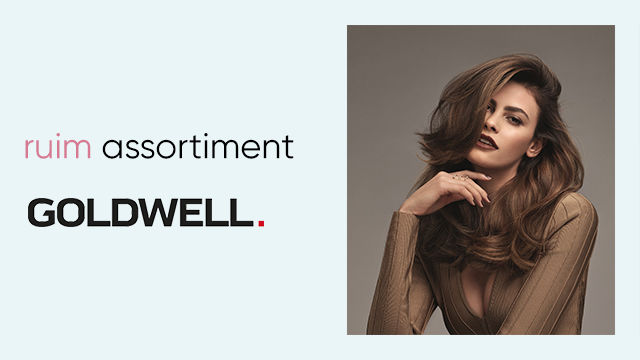 Producten 1 tot 24 van 839 in totaal
Pagina
Je leest momenteel de pagina

1
Producten 1 tot 24 van 839 in totaal
Pagina
Je leest momenteel de pagina

1
Goldwell altijd met hoge korting verkrijgbaar!
Goldwell is een van onze meest exclusieve en geliefde kappersmerken die jouw professionele behoeften kent en je helpt deze te verwezenlijken! Dit exclusieve topmerklevert haarcosmetische producten aan kappers en consumenten over de hele wereld en is nu met hoge korting verkrijgbaar bij Kapperskorting.com!
Haarkleuring
Voor de mooiste kleurresultaten gebruik je de haarkleuringsproducten van Goldwell! Ga voor briljante permanente kleuren met de Topchic lijn, geweldige blonde resultaten met de Oxycur en Silk Lift lijn of tijdelijke kleuring met de Colorance en Conbellijn!
Goldwell Topchic
Met de verschillende Topchic lijnen creëer je mooie permanente kleurresultaten. De verschillende kleursystemen bestaan uit; The Naturals, The Blondes, The Browns, The Reds, The Mix-shades, The Special Lifts en speciaal voor mensen met grijs haar bestaat er de New Greylijn!
Goldwell Colorance
Ga je liever voor een demi-permanente haarkleuring die het haar optimaal beschermt en verzorgt dan biedt Goldwell jou met de Colorance lijn de ideale oplossing! De verschillende kleursystemen bestaan uit; Express toning, Intensives, Lowlights, Max Reds, New Greys en de PH-Set. Om vervolgens je haarkleur nieuw leven in te blazen heeft Goldwell de Colorance Soft Color en de Colorance Styling Mousse.
Omvorming
Of je nou juist voor krullen gaat of steil haar, met de omvormingsproducten van Goldwell bereik je in een handomdraai de meest stylish kapsels van nu! Ga voor levendige krullen met de topproducten; Evolution Neutralwave, System en Topform.
Styling & Finishing
Met de stylingsproducten van Goldwell breng je jouw coupe en kleur tot leven! Deze styling en finishinglijn heeft voor iedere stylingbehoefte, van natuurlijk tot grenzeloze styling de juiste producten. Of je nou voor flexibele versteviging, lange houdbaarheid of juist voor haar dat natuurlijk aanvoelt gaat, Goldwell heeft voor ieder wat wils! Verstevig je kleur met de Conbel Care of Clear of verstevig gewoon je coupe met de populaire Goldensprayhaarlak.
Goldwell Dualsenses
Een van de meest populairste verzorgingslijnen is de Goldwell Dualsenses. Met deze lijn ervaar je de effectieve expertverzorging met een dubbele werking. Ervaar nu ook thuis het gemak van in de salon en bestel je producten snel en gemakkelijk online! Bestel bij Kapperskorting.com de Goldwell Dualsenses verzorgingsproducten voor o.a. gekleurd, krullend en beschadigd haar!