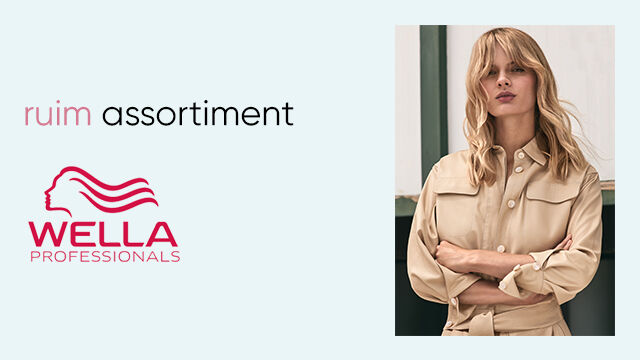 Producten 1 tot 24 van 107 in totaal
Pagina
Je leest momenteel de pagina

1
Producten 1 tot 24 van 107 in totaal
Pagina
Je leest momenteel de pagina

1
Wella Color Touch met hoge korting!
Wella Color Touch: wanneer je nog niet zeker bent van de kleur of als je wat vaker je haar wilt kleuren! Ga je voor zomerblond? Of kies je deze keer een bruine kleur? Wat je ook kiest, met de semi-permanente kleuren van de Color Touch lijn geniet je van intensieve kleureffecten!
Wella Color Touch Emulsie
Wella Color Touch Emulsie brengt de mooiste kleuren tot leven! Meng je gekozen kleur met de crème-achtige emulsie en krijg de mooiste resultaten. De developer is verkrijgbaar in 1,9% en 4%. Belangrijk bij de emulsie is dat de juiste verhoudingen worden gebruikt om de mooiste resultaten te krijgen! Voor de lijn Color Touch Plus is een speciale emulsie ontwikkeld. Deze ontwikkelaar van 4% is zeer geschikt voor gebruik in de salon. Voor deze ontwikkelaar klik je hier.
Wella Color Touch Rich Naturals
Kies voor Color Touch Rich Naturals van Wella als je op zoekt bent naar een semi-permanente haarkleuring. Twijfel je nog of je jouw haar wel wilt verven? Dan is de semi-permanente haarkleuring uit deze lijn echt iets voor jou! De haarkleuringen uit de Rich Naturals lijn blijven tot ongeveer 15 wasbeurten zitten en geven het haar een mooie glans. De glans creëert het product door het gebruik van proteïnen. Deze verzachten en versoepelen het haar. En als extraatje: deze semi-permanente kleuring is amoniavrij!
Heb je na die 15 wasbeurten nog geen genoeg van je kleur? Dan kan je kiezen voor een permanente haarkleuring! Kijk voor permanente haarverf eens bij Wella Koleston Perfect. Voor vragen over de semi-permanente of permanente verf kan je altijd contact opnemen met onze persoonlijke service.
Koop nu je Wella Color Touch op Kapperkorting.com met hoge korting! En bestel je al voor €30,-(excl. btw), dan betaal je geen verzendkosten! Heb je jouw bestelling geplaatst voor 22:00? Dan ontvang je de producten morgen al in huis!