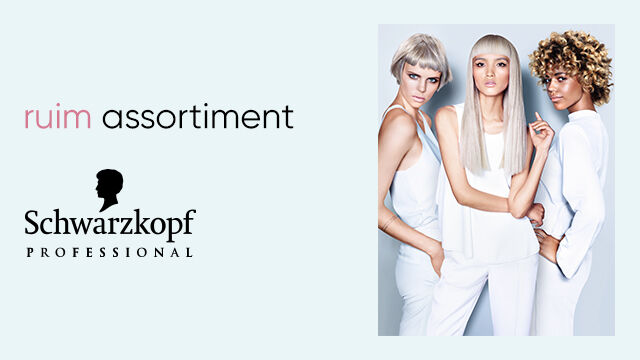 Producten 1 tot 24 van 99 in totaal
Pagina
Je leest momenteel de pagina

1
Producten 1 tot 24 van 99 in totaal
Pagina
Je leest momenteel de pagina

1
Schwarzkopf Bonacure met hoge korting!
Schwarzkopf Bonacure bestaat uit verschillende lijnen om je haar en hoofdhuid optimaal te verzorgen. Dus heb je beschadigd, gekleurd of futloos haar? Heeft je haar een eigen leven of heb je geïrriteerde of gevoelige hoofdhuid? Wat je ook bedenkt, Schwarzkopf BC heeft het product dat bij je haartype past! Kies bijvoorbeeld de producten van de Volume Booster, Expertise of Moisture Kicklijn voor prachtig, stralend haar!
Schwarzkopf BC Color Freeze
De Schwarzkopf BC Color Freeze lijn heeft producten die ervoor zorgen dat je kleur lang mooi blijft! Heb je last van gekleurd haar dat beschadigd is, dan is de BC Color Freeze Rich Shampoo iets voor jou! De shampoo zorgt voor optimaal kleurbehoud en verzorgt het haar. Geniet van gekleurd haar met een gezonde glans!
Speciaal voor mensen met blond of grijs haar heeft Schwarzkopf de Color Freeze Silver Shampoo ontwikkeld. De shampoo reinigt het haar niet alleen, ook zitten er aminozuren in de shampoo. Deze zorgen ervoor dat de zilvertonen in het haar geactiveerd worden. De gele tint verdwijnt!
BC Moisture Kick
Last van droog haar en mis je het vocht in je haar? Dan bieden de producten uit de Schwarzkopf BC Moisture Kick lijn de oplossing! De shampoos uit de lijn geven veerkracht, reinigen het haar en brengen de vochtbalans in evenwicht. Voor optimaal resultaat raden wij aan na de shampoo een Spray Conditioner te gebruiken. De Schwarzkopf BC Moisture Kick Spray Conditioner zorgt voor een stralend en glanzend effect. Het haar ziet er gezond uit en is makkelijk doorkambaar. Ook zorgt de haarverzachter voor de vochtbalans in het haar.
Andere problemen met je haar? Neem dan eens een kijkje bij één van de volgende categorieën van de Schwarzkopf BonaCure lijn:
Shop nu je producten uit de Schwarzkopf Bonacure lijn met hoge korting! Bestel op werkdagen voor 22:00, morgen al in huis! En wil je altijd op de hoogte blijven van nieuwe acties, producten en de meest actuele trends? Vergeet je dan niet aan te melden voor onze nieuwsbrief!